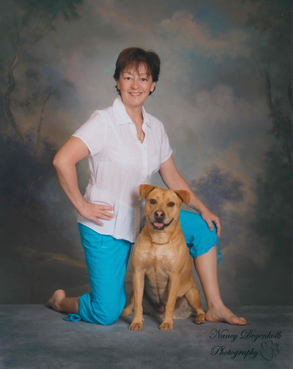 President and Head Trainer at Top Class K-9 LLC, has owned and cared for animals since early childhood. She has owned dogs all of her life and has enjoyed working with dogs for many years. A horse trainer and riding instructor of 30 years, Sylvie possesses a broad range of knowledge and experience in the art of teaching and training both owners and their animals.
Sylvie is a member of several obedience and breed club and AKC, Canine Good Citizen Evaluator.  She successfully trains for and competes in Formal Obedience, Rally Obedience, Nosework, Barn Hunt and AKC Herding trials with her own mixed breed and purebred rescue dogs and breed dogs, having earned multiple high level titles. 
Sylvie's students also successfully compete in Formal Obedience, Rally and Nosework.
A professional and dedicated trainer, Sylvie is committed to training you and your dog to reach the highest level of excellence.   Using many different protocols, Sylvie teaches you to understand your dog and train with empathy.  She interpret the reasons causing your dog's behaviors and will treat the cause of the behavior not just band aid the symptoms with punishment protocols.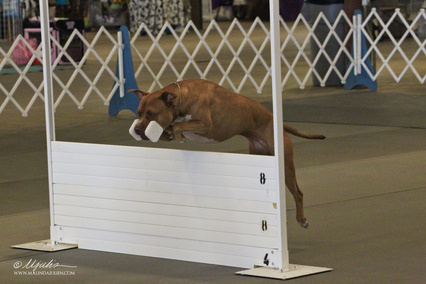 Sylvie helps the handlers understand their dogs and teaches them interventions that really work long term. She also encourages realistic expectations and will educate you on the characteristics your dog's breed or breed mix as well as how to recognize instinctual behavior and interrupt sequencing in a reactive dog.
Sylvie understands the science of discipline and precision thus enriching each training session with her ability to bring out the best in each dog and its handler. Your training experience will be fulfilling, enjoyable and fun.
Meet Sylvie's Pack
AKC OTCH Bluekreek's It's My Time To Shine aka "Drake", Australian Shepherd, ASCA CD, AKC OM1, AKC UD . Drake came to us at 9 weeks in 2018 from Bluekreek's Australian Shepherds in Liberty Texas. Drake commended his meteoric rise in the Obedience world at 15 months, earning nine High in Trials in Novice obedience. He since then blew through earning his OM1 (Obedience Masters) AND his OTCH (Obedience Trail Champion) in 5 months, before age 3, with super high scores and is now heading to the National Obedience Championships to compete against the best dogs and trainers in the US.
Cimarron's Heaven's On Fire aka "Brynna", American Staffordshire Terrier, CGC, AKC UDX, AKC-TKP , came to us from Cimarron Amstaffs, breeder in OK, at age 8 weeks September 6, 2014. Brynna has beautiful drive and is a very resilient little girl! She has an incredible career in competitive obedience. She has earned her AKC UDX and is working on her OTCH. Brynna competed in the AKC National Obedience Championships in 2019 earning 36th place out of 200 dogs invited and winning 1st Place in the Terrier Group! Brynna also has her AKC Trick Dog Performer title!

Faith, American Pit Bull Terrier Terrier, CGC, ASCA-CDX, AKC RE, AKC-UD, AKC-TKP. I pulled Faith from the Sulphur Springs animal shelter in 2008. She was eight months old at the time. Faith has been trained to a high level in competition obedience and rally. Faith has had to endure a total hip replacement due to dysplasia at age 18 months and three subsequent knee surgeries. After earning her first UDX leg, she had to retire from the competition ring as she is not able to meet the jumping requirements. Faith has a lovely temperament and is an energetic, happy dog. She is great ambassador for Top Class K-9! Faith also works as a demonstration dog in our Trick Dog class as well as doing Nosework. Faith had great fun earning her AKC Performer Trick Dog Title!
Finnegan, GSD, AKC CGC, AKC TKA. Finnegan was acquired from rescue in November 2017! He was a little under a year old. He has a lovely temperament and is learning obedience skills as well as Nosework skills. Finnegan has is Canine Good Citizen title and several nosework titles.
At the Rainbow Bridge – Rest In Peace My Worthy Partners
Daisy, Beagle. AKC-TKN Daisy Duke, as we call her, lost her home through unfortunate circumstance and came to live with us in 2009. She was 4 years old at the time. Daisy works as a distraction dog in private lessons, classes and is the "babysitter" for the board and trains who come to stay. Daisy also helps with poop pickup as she is able to find it even in the long grass. Daisy has a wonderful temperament. She is a happy go lucky girl who loves attention. Daisy has earned her AKC Novice Trick dog title at age 11 and had a great time doing it. Daisy has now joined some of her pack members at the Rainbow Bridge. We miss you, Daisy!
Ricky, American Staffordshire Terrier, CGC, TT, AKC-PCDX ,AKC CDX, ASCA CDX, AKC GN, AKC GO, AKC UDX, AKC TKA. came to us from Esoteric Amstaffs, breeder in NC at age 9 weeks April 29th, 2012. Ricky is training in competitive obedience. He earned his UDX title and 1 OTCH point at age 4 1/2. He also had aglity titles and his AKC Advanced Traicks title. Ricky was an amazing dog who passed away at age 5 1/2 years of Hemangio Sarcoma. I miss him every moment of my life.
Harriet, American Staffordshire Terrier: CGC, TT, AKC-RAE, AKC UD, ASCA-UD. Harriet was a stray who simply walked up the drive one day in 2006. She was a little over a year old at the time. Harriet was a rehabilitated dog aggressive dog with extreme prey drive Harriet earned TWO Utility degrees and an RAE. She worked as an assistant dog in Rally and Competition Obedience classes for years. Harriet, passed away at age 12. You were and always will be my heart and soul dog, Harriet. I miss you so much.

Ozzie, Catahoula/Pit Bull, CGC, TT, ASCA-CDX, AKC CDX, RAE. Ozzie was found as a stray and has been with us since February 2005. He was approx. four years old at the time. Ozzie lived with us from February 2005 to July 2015 when he passed away. Ozzie had been trained as an assistant dog in rehabilitating fearful and aggressive dogs and performed those duties for years as well as training for his competition work. He had been retired from aggression rehab work and competition for several years as he took on the duties of mascot. Ozzie always enjoyed meeting everyone. RIP, you awesome dog, we will miss you always.
Fergus, GSD/Akita, CGC, TT, ASCA-CD. Fergus was found as a stray, dumped in the ditch across the road from our facility. He was approx. five months old at the time. Fergus lived with us from September 2004 until he passed away in July of 2014. Fergus was trained in off-leash obedience and retrieve work. He worked as an assistant dog in proofing classes and in rehabilitation sessions. Fergus also protected our property. RIP, Big Guy, we will miss you always.
Logan, German Shepherd Dog, CGC, HIC, HSCs. Logan was acquired as a foster in 2006. He was approx two years old at the time. He had been treated for heartworm infestation and was on his way to a GSD rescue. I could not bear to part with him and adopted him 3 days after his arrival here. Logan lived with us from 2006 – 2016. Logan had been trained in obedience, rally, agility and herding. Logan had his Herding Started C Course title on sheep. He enjoyed his retirement and guarded our property. Logan passed away at age 12. RIP, precious boy, we will miss you always.

Casey, Beagle. Casey came to us when I pulled him from Arlington Animal Shelter. He was on death row. He was four years old at the time. He sadly was afflicted with several medical conditions that cause severe, idiopathic aggressive incidences. He was somewhat rehabilitated from a fearful, resource guarding, aggressive dog with a bite history, to a pet who could live in our household, with management protocols firmly in place. Casey passed away on December 27th, 2011. RIP, poor boy, you have taught me so much.
Hope, American Bulldog. Hope was found as a stray in downtown Fort Worth. She came to live with us when no one would take her. She was approx. five years old at the time and was severely emaciated and showed every evidence of having been a street dog or in a breeding mill. She lived with us for 4 years as a companion dog enduring many health challenges. Hope passed away on January 31, 2010. RIP, sweet girl, we will miss you always.
Ready to Sign Up?