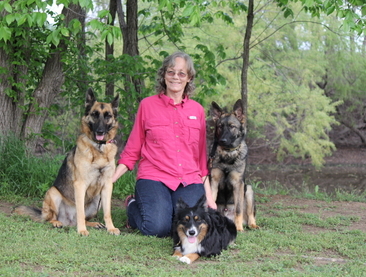 Carol Lewis has owned and cared for animals since early childhood and has owned dogs all her life. She has and is training two German Shepherd Dogs and an Australian Shepherd for the Obedience and Rally rings.  She has raised and trained Bird Dogs for field work.  Carol has also trained and competed with horses for 32 years.
Carol brings a variety of teaching experience to us and has many years of experience instructing children and adults alike. She was a 4-H instructor for 25 years. Several of her 4-H students qualified for State competition with their horses and other 4-H students won Grand or Reserve Championships with their livestock. She was Sunday School teacher for 21 years. 
Carol teaches Rally and Treibball and is a Canine Good Citizen Evaluator. She also assists Top Class K-9's head trainer Sylvie with her classes and the board and train dogs.
Kita, German Shepherd Dog; AKC CGC, AKC HIC, AKC RAE, AKC BN, AKC CD, ASCA CD. Kita is retired.
Cinnamon, Australian Shepherd; AKC CGC, AKC HIC, AKC RN, AKC BN, AKC PCD, AKC GN, AKC PCDX, AKC CDX, ASCA CDX.Cinnamon is working toward getting her AKC UD and ASCA UD.
Arlo, German Shepherd Dog; CGC. Arlo is starting his training for an obedience career.
Nita Great Pytenees, is learning to be a working farm dog.
Sissy, Pit Bull/Border Collie Mix, was abandoned on her farm with her mom and litter mates at about six weeks old.
Squeaky, mix breed, was left by her mail box at about eight weeks old.
Sandy, small mix breed, abandoned on a country road at about two years old. She was heart worm positive.
Ready to Sign Up?